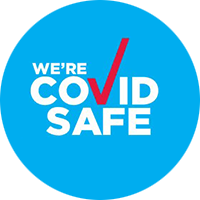 air conditioner

Hand sanitiser

Personal protective

Social distancing

shower

Free WiFi

Parking included

non-smoking

LED-TV
Reception Hours
Check in Time:- 3pm
Check out Time:- 10am
Reception Hours:- 7.30am - 9pm
After Hours:- If you expect to arrive after 9pm then we kindly ask that you contact the Lodge directly on 02 6457 5170 on the morning of your arrival.
Our Policies
---
Prices are subject to change and a minimum stay period and other conditions may apply.
The minimum stay at any one time for any room is 2 nights.
We are a traditional Bed & Breakfast Lodge and therefore no meals other than complimentary coffee and tea are available apart from Breakfast.

The last booking in 2022 will be for departure on 3rd October 2022.
Check-out is before 10am and Check-in is between 3 pm & 9 pm! Please confirm the estimated time of arrival when making your Booking. If you anticipate a later arrival than 9pm please contact the Lodge directly on the morning of your arrival date – 02 6457 5170.

Any booking made less than 21 days before the start date of occupation will require full payment in advance for the period of the booking.
All payments for bookings are non-refundable if cancelled less than 28 days before arrival and we do strongly recommend that Travel Insurance is taken out for all bookings made.
All payments are by Credit Card or direct to The Lions Lair Lodge Bank Account – the details of which will be provided for payment of a Deposit or full payment in advance when making your reservation. Unfortunately we cannot accept personal or company cheques.
The Lions Lair Lodge is a COVID safe business and we value our guests and staff in order to keep them safe. If you do have any symptoms at all then please call us immediately and do not arrive at the Lodge. If you do arrive at the Lodge displaying symptoms we will have no alternative than to kindly ask you to leave upon which time we will give a full refund of your accommodation. If you would like to see a copy of our COVID safety plan then we can send this to you by email.